Posted By Sarah McCann, Monday, June 5, 2017

Cross-Boundary Leader:
Larry Leverett
(NJ EPFP 88-89)
Dr. Larry Leverett served as the Executive Director of the Panasonic Foundation, a corporate foundation with a mission to help public school systems with high percentages of children in poverty to improve learning for all students. Although recently retired, he maintains the passion and expertise he brought to the role, along with a deep commitment to improving teaching and learning for all students.
Prior to joining Panasonic Foundation, he spent 16 years serving as a superintendent in three school districts: Greenwich, Connecticut, Plainfield, New Jersey, and Englewood, New Jersey. His career in education included urban and suburban experiences as a classroom teacher, elementary principal, assistant superintendent, school board member, and Assistant State Commissioner of Education. Dr. Larry Leverett is at present supporting school district leadership and superintendent teams with governance effectiveness, team alignment, and equity strategies.
Career: Why Cross-Boundary Collaboration is Important in Education
"This is what I believe I am here to do."
From early on in my career to the last day as Executive Director for the Panasonic Foundation, my focus has been to advance educational equity and a commitment to ensuring every child has what they need to be successful. It was a career-long journey to advance the focus on children with the greatest need. I served as a Superintendent for three school districts over a total of 16 years. I loved my work and the help I was offering my districts. My work in education follows the mission statement of The Plainfield Public Schools closely: "In partnership with its community, shall do whatever it takes for every student to achieve high academic standards. No alibis, no excuses, no exceptions!"
There are tremendous disparities in society that play out in our schools, mainly with children of color and those with special needs. They are not provided with the resources they need to disrupt the challenges presented by institutional barriers associated with race and class. The general issues in our education system have not been addressed because of our failure to address structural barriers that constrain access to opportunities supportive of student success. Cross-boundary leadership focused on collaboration across education, health, family wellness, and human service-oriented educational, governmental and non-profit organizations opens lines of collaboration necessary to provide comprehensive supports to children and families impacted by multiple risk factors.
As a cross-boundary leader you must build relationships inside your agency and outside, to ensure that the broad spectrum of available resources is effectively used. Partnerships and collaborations must be a core leadership value to provide the wrap-around services required to meet the diverse needs of children and their families. This is no time for "lone rangers" or heroes who rely upon silo-based approached to address the complex issues that influence student and family success. School and district leadership that systematically works across institutional boundaries is essential to provide a diverse array of supports in and outside the schools.
During my time as the Superintendent for Plainfield Public Schools, one of New Jersey's 30 poorest school districts, I was faced with the loss of millions of dollars in state funding that would have eradicated a comprehensive community schools strategy that involved education and human service supports for our children and families. Fortunately, our efforts to provide comprehensive wrap-around services evolved through several years of work to build relationships across sector boundaries. The history of collaboration resulted in shared ownership of the community school approach and provided the relationship trust necessary to challenge legislative decisions that would have negatively impacted collaborative investments to build student and family support systems. Fortunately, we invested in building community leadership and had the relationship trust to tackle a significant negative impact on inter-agency/inter-governmental efforts to support a system-wide community schools approach. We were successful because of the cross-sector support that included the mayor, elected and appointed officials, health service leaders, clergy leaders, non-profit organizations, and community and parent organizations. The wisdom of working across boundaries to build shared ownership and responsibility not only helped us to provide comprehensive services for children and families; it proved to be the basis for overcoming significant obstacles that threatened the partnerships we had developed.
Leadership Lessons Learned
One of the biggest leadership lessons I've learned is how crucial it is for leaders to truly know who they are. It is important for a leader to be grounded in a small set of core values that defines their approach to leadership. Leaders must be anchored by a set of deeply embedded core values that informs principled leadership. Core values are important to shaping the leader's theory of change that outlines the major assumptions on how to move an organization toward its mission. Within education, I carry these values to ensure the success of all learners we are charged to educate.
We must commit to an unshakeable belief in our ability to help all children to succeed in school, family, and community. The commitment to this belief places that responsibility on leaders and adults interacting with our learners to have high expectation for themselves and the children they serve. Value each learner and work to release the genius within every child.
We cannot be successful in our roles as school and district leaders working in isolation of community-based systems and resources. Cross-boundary leadership is essential to ensuring broad, comprehensive systems of support required to meet student needs. We can't get the job done for our children working in isolation.
Focus on the classroom and providing school teachers and principals with the supports needed to ensure high quality instruction to all children. Invest in building differential support and capacity building systems to grow and retain leaders in districts, schools, and classrooms.
EPFP Experience and Value
I participated in EPFP as an assistant superintendent and the Fellow experience was a great breakthrough opportunity for my career. EPFP gave me exposure to a network that was not available to me before. For example, it opened the door that allowed me to grow as a leader and gave me the ability to network with policy makers and practitioners across the country. I have a broader network thanks to EPFP and for several decades enjoyed a career supported by EPFP colleagues that I have called upon for advice. EPFP gave me the space and opportunity to discuss my practice confidentially. The biggest value of EPFP was the connections I made. Relationships that I established during my time as a Fellow have been sustained throughout my career as an educational leader. The use of the ever-expanding network has benefited me greatly. Even though I leave formal leadership, this interview is an example of alumni engagement and through this opportunity I can reach out to other Fellows. I value the relationships I have in DC, in my state, and nationally.
Throughout my affiliation with the Institute for Educational Leadership, I believe EPFP has always managed to be at the forefront of providing a space for policy discussions and defining policy for leaders involved in our school systems as well as those in legislature, the press, etc. No matter the agenda change, EPFP is always in the front of learning and teaching, informing others of trends, policies, and developments in the field of education.
Permalink | Comments (0)
Posted By Sarah McCann, Thursday, March 9, 2017

Ron Hoekstra
WIE 1973-74
Career Reinvention (It's Better to Wear Out, Not Rust Out)
1973

I met the last member of my class as I returned to my room at Airlie House, an antebellum mansion in Virginia's hunt country, where WIE hosted our orientation gathering. He snored softly, his beard spread atop his blanket. His unopened backpack rested against a wall. Hello, Bernard Glassman, newly arrived from Thailand. Welcome to our cadre of bright, talented, culturally and lingually diverse, extremely well-educated, and generally personable dewey-eyed change-makers.

By default, most of us aspired to improve public schooling. A few through federal agencies and policies. A couple already knew that the real action occurred at the state level. One or two carried the superintendency bug. We all sought to explore national-level policy making, hone networking skills, and learn how to effectively govern. Nearly everyone agreed that living / working / studying in Washington, DC trumped just about anything.



1951

My initial leadership training began in second grade. In that classroom of 13, I figured out how to extend and enhance my learning. The local post office connected me to the world beyond the corn and soybean fields of east-central Illinois. The school's six teachers offered rich resource networks through which I leveraged the content of textbooks and workbooks into nearly limitless inquiry and discovery.

I learned that classmates esteemed me when I invited their questions and shared what I knew. Teachers actively coached and mentored me. Community leaders invested their time and wisdom in me. Donors underwrote the cost of Boy Scout summer camps and the American Legion's Boys State. Nearly everyone in my home town of 550 helped raise me.

1961

As I left for college, I recognized the efficacy of the three fundamentals of successful social and governance paradigms. Articulate policies that always recognize, affirm and empower human potential. Develop safe paths for use of "best practices" and trial and error where those don't work. Model and practice networking.

A decade of undergraduate, graduate and post-graduate schooling conceptualized and reinforced those three fundamentals. 2 1/2 years of pre- and post-doctoral internships confirmed and deepened their importance. The Ford Foundation's Washington Internship in Education iced the cake.


1990

Fast-forward through 16 years of public school leadership — always at the district level. About six months into my final superintendency I realized that I no longer sought the next job. My self-diagnosed "restless intellect" prompted me to career shift into the private sector.

2007

17 years and three successful non-education related businesses later, I once again career-shifted. This time as a volunteer teacher in developing countries. My wife, Linda and I lived and taught for two years in Honduras and for one year in Indonesia. We returned to the US in 2013.

As expats, we lived in local neighborhoods, shopped in local markets, and ate in local restaurants. We visited cities, small towns and villages. Nearly everywhere we met missionaries and volunteers through whom churches and charitable organizations sought to provide free, in-country medical, dental, child-care, and education services to the poorest and neediest. While we noted the obvious benefits provided, we also witnessed an unexpected result of such well-intended charity — a continuing culture of dependence.

Nearly always missing was the bedrock of successful social and governance paradigms. Few policies recognized, affirmed and empowered human potential. Fewer, if any, safe paths existed for use of "best practices" and trial and error where those didn't work. Networking mostly promoted and facilitated corruption.


2016 and Beyond

To help reduce cultural and economic dependence, we created The Foundation for Enterprise and Hope, a 501c(3) non-profit corporation, doing business as The Coffee Can Group.

Through no-interest micro-loans, we aim to enable burgeoning entrepreneurs (particularly young women) to start a business, produce a profit, and grow personal wealth. As loan recipients repay their loans, those monies remain in the local community to be reinvested in other proposed businesses. Interrupting debilitating cycles of social and economic dependence begins with enterprise and personal wealth.

The three pillars of policy, networking, and leadership provided us the conceptual framework for fostering economic and social independence. Based on these tenets, we support sustainable economic empowerment through enterprise. Networking generates clients and social investors. We mentor and coach others to lead this effort.

We rooted our social investment model in successful small business structures and practices. The Coffee Can Group's leadership teams include entrepreneurs who saw opportunities to make money, created businesses, produced profits, and developed personal wealth. Along the way they helped others and had fun.

We envision hundreds, perhaps, thousands of persons contributing fewer than $25 each. Our Coffee Can Connections comprise networks of social investors who form investment groups of five or six, generate a group investment donation, and then reach out to others to form new investment groups.

The Coffee Can Group also intends to engage with public and independent schools and colleges across the US. We seek to network with elementary and high school teachers who wish to integrate our economic and social investment model into their study of languages, cultures, geography, and economics. We plan to network with college and university professors and their undergraduate and graduate students to encourage them to investigate and document the outcomes of growing individual enterprise in developing countries.

Learn more about and with us.

Tags: alumni career leadership networking policy WIE

Permalink | Comments (0)
Posted By Sarah McCann, Tuesday, January 3, 2017

Mary Kingston Roche
DC EPFP 10-11
The Fragility of Justice and the Ordinary Heroes Who Must Uphold It
Cross-posted from http://www.huffingtonpost.com/martin-j-blank/the-fragility-of-justice_b_13789526.html
Would you ever fear that your own tombstone would be vandalized out of hate?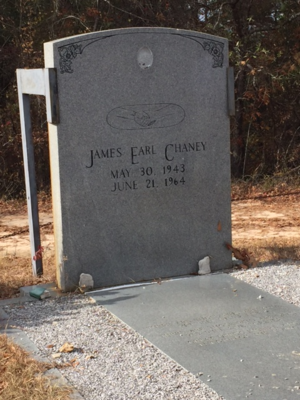 This is the reality for James Earl Chaney, one of three slain civil rights workers killed on June 21, 1964 by members of the Ku Klux Klan. Chaney's story has come to epitomize the malice of this era in our history. He is buried on the side of the road in rural Meridian, Mississippi, not far from where he was brutally murdered and buried in a ditch by the Klan, undiscovered for 44 days. Chaney lies next to his slain brothers, Andrew Goodman and Mickey Schwerner.
All burial places should be sacred, but not James'. Over the years his tombstone has been knocked over or defaced half a dozen times, leading his family to attach steel bars to the back of the stone to keep it in place. And the image of his face on the stone has been marred or even shot at as seen by bullet holes on the tombstone.
We could not witness clearer evidence that hate and racism persist in our society fifty years after the civil rights movement. James Chaney's tombstone represents this fragility of justice, and how we must call upon the strength in our hearts to stand up for ourselves and others every day.
This visit to James Chaney's tombstone was part of a 3-day civil rights bus tour for education leaders, organized by the John C. Stennis Institute of Government at Mississippi State University and the Education Policy Center at The University of Alabama. Those who attended the tour participate in theEducation Policy Fellowship Programrun by theInstitute for Educational Leadership. Every aspect of our three-day bus tour was equally sobering yet inspiring; painful but hopeful. Here are a few key themes that emerged for me as we made our way from Jackson to Birmingham, feeling each theme more acutely with each stop.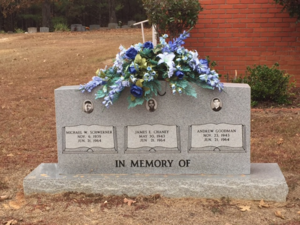 Forgiveness
We were often left speechless by the forgiveness and grace people displayed who were affected by heinous acts of racism. Jewel, whose brother and mother were brutally beaten by Klansmen upon leaving a church meeting in Philadelphia, Mississippi when members of the Klan were looking for civil rights activist Mickey Schwerner is one such person. She said, "You have to forgive, or else you can't move on...but I still get teary-eyed about it." This amazing level of forgiveness was even more powerful when juxtaposed with the utter lack of remorse or responsibility displayed by the men convicted decades later for the murders of African-Americans during this time. This characterization of the convicted men was illuminated by the first-person accounts of Doug Jones and Jerry Mitchell, an attorney and journalist, respectively, who came to know these men through their work in bringing them to justice.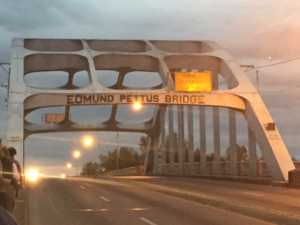 Remembrance
We cannot learn from our past unless we acknowledge and remember what happened. I was struck by how many of my peers on the tour, who were largely community college administrators in Mississippi and Alabama, said they didn't even learn about civil rights history in school. One of my peers from East Mississippi Community College said "I didn't learn about civil rights growing up-it wasn't in our history textbooks. It was all hearsay. We'd see it in magazines like Ebony." At our stop in Selma, we noticed a housing project and school right across from the church where thousands of people gathered in 1965 to start the march across the Edmund Pettus Bridge to Montgomery. When one of my peers stopped to ask a young girl if she had learned about this history in school, she had not. We must do better. Our civil rights history is too important, too raw, and too tenuous to be ignored.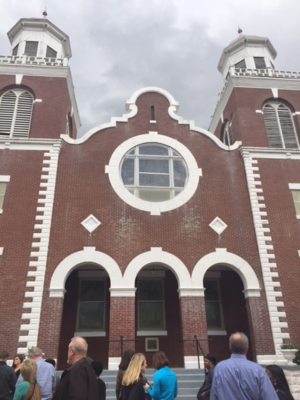 Courage
We were amazed by the courage that so many people involved in the civil rights movement displayed on a daily basis. We felt their courage in the story of Fred Shuttlesworth, a preacher and father who was brutally beaten simply for trying to integrate his children into his local school, three years after the Supreme Court ruled in Brown vs. Board of Education that "separate but unequal" was unconstitutional. We felt their courage when we walked across the Edmund Pettus Bridge in peace, but recalled the pictures of brutality from the Bloody Sunday march when the Alabama police unleashed their fists, bats, dogs and fire hoses on a peaceful gathering. What courage these leaders had to return to that bridge twice more, determined to make the journey to Montgomery. We felt their courage in picturing a 25-year old Martin Luther King, Jr. organize the year-plus long Montgomery bus boycott in 1955 in the basement of the Dexter Avenue Baptist Church, just steps from where Governor Wallace had only recently vowed for "segregation now, tomorrow, and forever." We learned that gathering in church the night before a march or protest and singing songs like "Aint Scared of Nobody" gave so many people the courage to do what they did the next day.
Unity
When Martin Luther King, Jr. made the call for people to join him in the march from Selma to Montgomery, all kinds of allies showed up: black, white, Jewish, Christian, Muslim, young and old. People were called to a movement that was fundamentally about human rights, and the belief that we all deserve the same rights and liberties. In a similar way, and without anticipating it, we realized on the last day of our bus tour that we as a group had unified around this common powerful experience, and pledged to support one another in our own work to advance civil and human rights.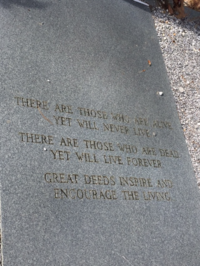 So, where does this leave us today? How do we protect and uphold this fragile justice -whether it's rights for African-Americans, Latino, LGBTQ, Muslims, immigrants, or any other targeted group? We must first recognize that we are the ordinary heroes that we've been waiting for: the people who will counter every hateful act with one of love, and put tombstones like James Chaney's upright again and again when they are knocked over. We are not unlike the ordinary heroes of the civil rights movement: so many men, women, and young people whose names we'll never know who carried the movement forward through their small acts for justice.


James Chaney was one of those ordinary heroes whom we honor and remember. His tombstone inscription leaves us with a guide for our way forward together: "There are those who are alive yet will never live/There are those who are dead yet will live forever/Great deeds inspire and encourage the living."

Tags: civil rights education justice unity

Permalink | Comments (0)
Posted By Sarah McCann, Wednesday, November 2, 2016

Cross Boundary Leader
Christopher A. Shearer
DC EPFP 94-95
Christopher Shearer is a Program Officer in the Education Program at the

William and Flora Hewlett Foundation

. He helps manage grants to improve education by advancing

deeper learning

—an interrelated set of academic content knowledge, higher-order thinking skills, and learning dispositions for students.

Previously, he was associate executive director of the National Geographic Society's Education Foundation, where for more than a decade he managed grant making, policy advocacy, and public engagement. From 1993 to 1997, he was a senior staffer at the Institute for Educational Leadership's interdisciplinary National Health & Education Consortium. Before that, he served as the executive assistant to the president of the Pew Charitable Trusts. Chris began his career as a communications associate for the Duke University-based Pew Health Professions Commission, established to help U.S. workforce, policy, and educational institutions respond to the nation's changing health care needs and emerging models.skills, and learning dispositions for students.Hewlett Foundation. He helps manage grants to improve education by advancing deeper learning—an interrelated set of academic content knowledge, higher-order thinking skills, and learning dispositions for students.

Chris holds a bachelor's degree in English literature and biology, and a master's degree in English literature, both from the University of North Carolina at Chapel Hill, his hometown.

Deeper Learning & Education Policy

Education is one of four standing program focus areas at the William and Flora Hewlett Foundation. We're making sure kids get the knowledge and skills in school they'll need to succeed when they graduate. This includes six competencies that, together, we call "deeper learning," including critical-thinking, communicating and working collaboratively, in addition to rigorous academic mastery, directing one's own learning, and developing learning mindsets.

As a program officer, my daily work is to engage with the nonprofit community to identify opportunities for funding—I think about issues like the alignment between our agenda and our grantees' and about how Hewlett can add value to our partners beyond just the funding we provide. So, I often I work to connect people to each other, to funders, and to big ideas to make sure people have the range of resources needed to do the work they are proposing.

We at Hewlett think that if schools are going to support teachers to deliver deeper learning outcomes they need policy backing. Policy can endorse, enforce, and encourage innovation, but I think the field too often thinks of it only as an 'enforcer,' which can lead us into a compliance mindset. Hewlett wants to get policy to play a broader, more 'signaling' role to get people into a mindset of continuous improvement. So, while I work to introduce a broader set of deeper learning student outcomes through policy reform, I also strive to make policy itself a better, more useful tool. It's not just used for identification, but for improvement; not just data, but useful data. Policy has a significant role to play in shaping the conditions and levers of the education system.

Hewlett makes grants from the national level down the cascade to the local. Our grantees are working on federal legislative reform to ensure that deeper learning is part of the explicit goals of education at the national level. We're looking for innovative policies in assessment, teaching, and materials, as well as working across the suite of federal education legislation, trying to increase their congruence. Today, as states develop their consolidated ESSA plans they have a real opportunity to signal that these things matter and to create greater partnerships between states and districts. There's been a real growth recently in rhetorical consensus on the importance of deeper learning, or the 'soft skills,' 'essential skills,' '21st century skills,'—whatever various advocates call them—and delivering on this new 'North Star' for students involves policy reform.

Our home state, California, is such an exciting place right now. The Golden State has recently tackled a whole suite of education policy reform, changing education goals, assessments, financing, governance, and accountability, all of which could potentially align much more with deeper learning. So, we are excited to work on this national agenda in our own backyard. And, across our work, we are increasingly trying to invest in up-and-coming leaders, people in the middle of their career now who will become leaders soon. We're advocating for identification and support of folks to learn within their own career path, encouraging networking them with one another and creating a vanguard of leaders on diversity and equity in deeper learning. I am convinced investing in people will help the state achieve a tipping point for better student outcomes. That's why we invested in California EPFP, and, as a former fellow in the DC program, I'm doubly glad to be able to help with it. California is a bellwether state in many ways, so we wanted to make sure it has the support it needs to help future leaders develop and maintain progress in education policy.

Cross-Boundary Leadership and Challenges

I am a great believer in interdisciplinary perspectives and partnerships. Personally, I have moved from jobs working on workforce reform in healthcare to interdisciplinary grant-making, to connecting health care associations with education associations, to educator PD, to policy reform. I have been fortunate to tap into the rich and varied experiences that my bosses and institutions have provided me over the course of my career. For example, at IEL we brought together leading professional associations to get experts to see education as a health issue and, in turn, health as an education issue. I am super-committed to the idea that many of our nation's market failures are partly a result of the phenomenon that one discipline alone cannot solve its own problems, cannot effectively see the whole student or citizen from just its own vantage point. So it really helps to bring together other sectors.

I regularly reference Bud Hodgkinson's report 'All One System' and his philosophy that the child or community should be at the center of what we are doing. We have many layers of governance and services but they're all accessed by the same citizen. In cross-sector work it helps to think about the learner first, not how to design the system for the adults working in it but for the students learning in it. How can we couple thinking through the various important outcomes in people's lives without fragmenting their experiences; how can we think of them as a single client that everyone's working for together? To approach policy development from this point of view, to think about a whole child and their whole needs, we need to consider cross-boundary leadership across all the different sectors.

In my experience, one challenge in leading across boundaries is 'street cred.' You need to prove you understand other sectors' guardrails and North Stars. To some extent, you want to embrace being a generalist and get enough information and allies to be at least marginally credible within the sectors you are trying to unite.

You sometimes also have to overcome entrenched ways of thinking. If folks don't understand how they could work together in new ways, old patterns can be pretty important barriers. Fortunately, foundations have catalytic money to think about getting around those barriers—such as funding the research necessary to clarify questions or document impact, or supporting a new staffer with cross-sector experience to foster new discussions. And, even more importantly, we are blessed with enormous convening capacity to bring people to the table to listen, learn, and start to act. I have found that people really trust foundations to bring them to a conversation that is potentially interesting to them.

Leadership Lessons Learned

My number one leadership lesson is that you can make a difference and effect institutional and sectoral change even if you are not in the top position. No matter where you are, lead! Engage the emerging leaders who are coming up behind you and engage the established leaders above you so that you can lead from the middle. And then, if you do eventually get that top spot, you will remember how much work gets done in the middle. There's often a difference, especially in the policy sphere, between the formal authority of the elected or appointed head and actual, transformational leadership. It's important to work with the tools that you have and act in the position you're in now.

My second lesson is that leaders react to big ideas. They of course have a track record of being competent on disciplinary issues and successful in project management, and have duly worked their way up to become masters of that sector domain, but often they really distinguish themselves and get to where they are by being able to recognize a powerful idea. Ideas give them great rhetorical and institutional room to act and provide a calling card to work across silos both inside their organizations and outside. So, another lesson is that you, yourself, are probably working on something really urgent and important to you that connects to a big idea. Don't just approach leaders on the terms of policy minutiae or the near-term change metrics—surface that big idea and wield it, because leaders will respond.

EPFP Experience and Value

I was the first IEL staff member to go through EPFP. Mike Usdan and Betty Hale, who led IEL into the position of being such a strong capacity-development institution, made a decision during my tenure to also invest in the leadership development of our own staff. This is more unusual than you might think. So often, organizations do not internally do well what they successfully do externally for a living. How many teaching institutions are good at learning, for example? So, I really benefitted from IEL living its mission both inside and outside.

Through the EPFP experience I learned the power of networking. The Internet is an amazing tool, but it's not as good as your phone. The importance of knowing people who know what, where, and when something is happening is a huge EPFP lesson that has improved my entire career. Having a networking lens allows you to get good information from people in the know and enables you to tap into the wisdom of the group to make everything better, from design to execution. EPFP also helped me cement an understanding of the vital federal role—and of federal/state relations—in policy. I've never been an elected official, or worked for one, but looking from the outside at policy, I believe in its power for good and that was reinforced by the technical, contextual, and networking experience provided to me by EPFP.

I have always tried to take advantage of continuous learning opportunities in my own career. EPFP is about expanding your horizons, meeting new people, and learning new ideas. The fellowship is something you take concentrated time to do in the middle of your career, but making time for that work shouldn't be something you do just in the year of your fellowship. You won't always have access to that kind of formal group support for learning; but, if you take those lessons to heart, you can make your career into your own ongoing 'fellowship program.'

I've always viewed EPFP as an equity and diversity program. My colleagues at IEL always spoke of EPFP as helping to address the fact that, when it first began, we were seeing a nascent demographic shift in the country, but educational leadership didn't look like the new face of America. There was opportunity and need for women and people of color in policy and leadership positions and for people with real local experience in the states and districts to get national experience and vice versa. Today, here at Hewlett, we've invested in re-launching California EPFP because we need diverse leaders more than ever. We urgently need people who understand the dynamic between the federal government and the states, especially with ESSA swinging the pendulum back out of the Beltway, along with all the issues related to that shift. So, this whole notion of getting together diverse leaders and arming them with a strong network and the new tools they need to take a multi-level perspective seems as live a proposition in today's rapidly shifting environment as it was when the program was founded.

Permalink | Comments (0)
Posted By Jennifer Masutani, Monday, September 12, 2016
Updated: Saturday, September 10, 2016
Cross-Boundary Leader

Shital C. Shah
DC EPFP 08-09

Shital C. Shah is the assistant director of educational issues at the American Federation of Teachers (AFT). In this role, she works across AFT departments to help examine and develop policy for and to support implementation of AFT's community schools area of work around whole school reform and provides support and training to state and local affiliates around the community school strategy and extended learning time. Previously, Shah served as the manager of policy and partnerships at the Coalition for Community Schools at the Institute for Educational Leadership; a consultant at Innovation Network, Inc.; and the director of an East Harlem out-of-school time program with the New York Road Runners Foundation. She also was a Peace Corps volunteer in Honduras. Shah holds a master's degree from the Milano School of International Affairs, Management, and Urban Policy at The New School, and a bachelor's degree from George Washington University.

Community Schools and the AFT

At the AFT, I work with national partners and local affiliates to develop community schools policy at the local, state, and federal levels. Community schools has become a big focus of the AFT, especially since Randi Weingarten became president in 2008. She saw the community schools strategy as one that the union could utilize for education reform, and later she institutionalized community schools work within the AFT. My position was created as an opportunity to work at the local, state, and national levels with different stakeholders—from teachers and union leaders to districts and school boards and community partners to help bring labor management and community partners together to create structures that can support and grow community schools. It's also a great opportunity to bring teacher voice into the conversation and process of developing community schools.

As a union, we are in a unique position in that we have the ability to engage our members across the country around community schools. Some things that makes us different than other organizations is that we have the power of organizing and advocacy to push policy, we can affect change in behavior at the local level, and union leadership at all levels can play a strong role in both of these. Many leaders are convening community coalitions with other groups to bring them and other folks who might not normally be a part of the education conversation into the fold.

Engaging families is another focus of our community schools work because parent and family involvement in education makes such a big difference for students, schools, and the community. We work to tie together the instructional component and family and community engagement component of academic success.

In the last year, we've been able to help our members work with community partners to create deeper instruction. Many educators do this through comprehensive project-based learning. An example might be bringing students into a community garden not just to show how vegetables grow but also using it as an opportunity for math lessons or instruction in other subject areas. The key piece to this is reminding educators that they aren't the ones having to go out into the community and find partners, but it's about building a strong relationship with community school resource coordinators, who can leverage existing and burgeoning relationships to support educators and instruction.

Cross-Boundary Collaboration and Education Policy

Working with federal and state policymakers and leaders can be challenging, but I think the key to effectively working with them is informing them of best practices. It's important to start at the local level to connect the policy to educators on the ground, because showing local support for a policy and having educators share their stories about a policy is crucial at the statehouse. In fact, many state-level policy proposals are built on local practices.

The big gap in almost any policy is not having enough local voices making the case for it. I think the advantage for us at AFT is having educators provide that voice to policymakers, especially around the community schools strategy. It can be easy to forget that, in community school efforts, instruction is still a key component, and educators can provide valuable insight about the impact and changing conditions that come with community schools.

Cross-Boundary Leadership

One of the benefits of being part of a national organization is that we have to mirror what we ask local communities to do—collaborative across boundaries. This is a huge part of community schools work on the ground as well as at the state and federal levels. Our collective work involves different stakeholders across multiple systems, and the union recognizes that in order to be effective, there has to be a collaborative voice speaking for the community schools movement.

Leadership Lessons Learned

One challenge with community schools is that places need to figure out how to bring all partners, including local unions, to the table from the beginning so there is a complete vision. The main takeaway from this work is that a vision can't be created in a silo and then have expectations that people will just buy into it. Everyone involved needs an authentic voice from the beginning.

EPFP Experience and Value

Before I became an EPFP Fellow, I was working at the Coalition for Community Schools and meeting with different partners around community schools. EPFP allowed me to connect with national organizations in a different way and on other issues like superintendent leadership and Title I funding formulas. It allowed me to see different layers of the organizations I was already working with in order to deepen my own work in community schools and get closer to the whole education field.

I think the biggest value of EPFP is the connections that you make during your Fellowship year. The DC cohort is a little different because many of us are connected through our work outside of EPFP, but the program is great because you get to know people at a deeper level. It's also a great networking opportunity. In many of the state sites, I think the value is that you have practitioners at the school and district and state levels in one place—and those are all of the people you need to create policy and change. EPFP gives these people a place to see different perspectives to change and improve local and state policy.
This post has not been tagged.

Permalink | Comments (0)